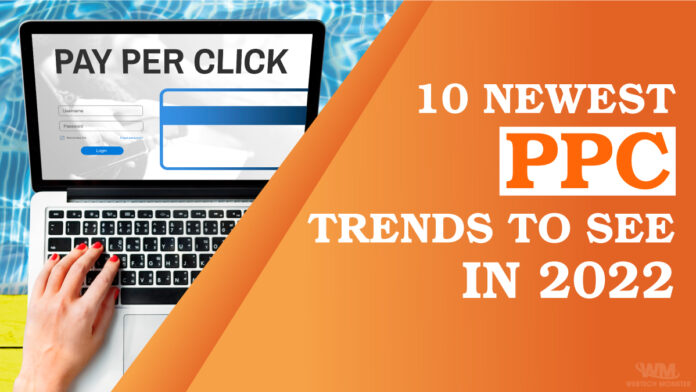 PPC stands for Pay per Click. In simple words, the term PPC can be defined as an internet marketing model in which an advertiser is required to pay a fee of a certain amount for every advertisement on which a user clicks. We can also say that if you are one is looking for ways to increase the traffic of the website rather than gaining those views via organic search, PPC ads are the best option for the same. 
Latest PPC Trends to See in 2022
Chatbots Are the New Trend 
Did you know that getting by chatting with the customers can greatly help the site increase its traffic and build better customer relationships? Yes! This is because this way you can understand their needs and requirements? These are the reasons why one can use chatbots for the Pay Per Click campaigns for a successful marketing plan.
Personalization 
In today's highly competitive age, every business needs to personalize many things, such as content, emails, products, etc. As per the marketing experts, 90% of the consumers say that they feel more confident and rely on the products or services which come with personalization. Hence, if you look forward to personalizing your PPC campaigns, you certainly are going to get the desired results. 
How About Video Marketing?
The best trend to keep up with, in 2020 is video marketing. We recommend this strategy because consumers say that watching informative videos on products and services helps them make a better buying decisions. So, pairing your pay-per-click ads with video can get you the results you have been looking for. 
Audio and Visual Search 
There is no denying the fact that since time immemorial visual and audio research is doing great in terms of marketing. Therefore, why not team up your PPC strategies along with an image in the preferred search engine. Then, process the search part so that the search engine can give the necessary results. This technique turns out to be quite helpful with your PPC campaigns.  
Make Use of Highly Specified and Optimized Landing Pages 
Did you know that using the highly optimized and specified landing pages for your PPC campaign gets you the right clicks and traffic? All you need to do is search for such a landing page that matches the products/services you offer your audience. If you are searching for PPC strategies that can work in 2022, this is surely the best pick for you.
Improve Your Audience Targeting
The digital marketing experts say that when the PPC campaigns reach the right set of target audiences who are interested in the business these campaigns are promoting, it will become easier to reach the business goals. 
Start Using More Video Content
People these days prefer to go through the information which can give them the necessary details and at the same time does not consume a lot of time. An example of such type of information is video content. The idea here is to merge your PPC campaigns with well-structured video content marketing strategies to reach your business expectations. 
Be Innovative in Your Ideas
It is rightly said that innovation leads to successful inventions. Therefore, it is always good to brainstorm new and different ideas which can make your brand stand out from your competitive circle and, at the same time, also fetch you great PPC results. 
Study Consumer Behavior in Detail
Thanks to artificial intelligence, it has become very easy for professionals to study their customers' buying trends and behavior. Therefore, make use of this technology to understand your target audience's requirements and expectations so that you can come up with a PPC strategy that can benefit you. You surely are going to gain benefits from AI.
Advertise Using Different Social Media Apps
Today, we are all living in a world, where most people use various social media platforms regularly. So, why not use innovative ways to bring your paid advertising campaigns on the social media platform to reach out to the target audience and gain more clicks and money.
These are some of the best PPC trends, which are popular and effective in 2020. You can plan and embed these into your PPC campaigns to market your business effectively.